ICAST– The World's Largest Sportfishing Trade Show
See the full list of the ICAST New Product Showcase Winners!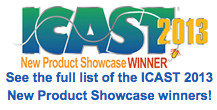 ICAST is the premier showcase for the latest innovations in fishing gear, accessories and apparel and is the cornerstone of the sportfishing industry, helping to drive sportfishing companies' product sales year round.
Find out more about the world's largest sportfishing trade show at www.ICASTfishing.org.
Curious about what you missed at ICAST 2013?
Click on the links below to see the highlights of the excitement and events that was ICAST 2013. And we'll see you in Orlando next year!
Mark your calendar now for ICAST 2014 being held July 15-18, 2014 at the Orange County Convention Center in Orlando, Fla.
Need a reason to attend ICAST 2014? Here they are!
All the Major Product Lines – Want to stay ahead of the game? ICAST is the only trade show where major manufacturers display their entire product lines. You won't see these product displays anywhere but at the world's largest sportfishing trade show.

Business Education Seminars – In order to meet the business needs of our industry, we are evolving the seminar sessions into a "must attend" business education conference with sessions presented throughout the trade show. Visit www.ICASTfishing.org for more information.

Product Presentations and Demonstrations – The New Product Showcase, and the Lure Tank are your opportunities to see the latest in gear, apparel and accessories both before they reach the market and in action on the show floor.

ICAST-only Show Specials – ICAST show specials offer buyers strong incentives to save money by striking deals at the show. The most commonly offered show specials are dating, value added, shipping, price, free goods and combos.

Buyer Raffles – Each time an order is placed with an exhibitor, a buyer increases his or her odds of winning the ICAST Buyer Raffle. Buyers can win cash prizes with one lucky buyer winning the grand prize trip for two to Crocodile Bay Resort in Costa Rica.

Networking Opportunities – Business still revolves around face-to-face meetings. There's no place like ICAST to connect with industry leaders and build or maintain relationships with people from around the globe.
We look forward to seeing everyone for ICAST 2014 being held 5-18, 2014 at the Orange County Convention Center in Orlando, Fla.