60 in 60
60 in 60 is the industry-wide collaborative effort to grow participation in recreational fishing from 46 million participants in 2016 to 60 million anglers in 60 months.

What is 60 in 60?
The "60 in 60" initiative, developed by the Recreational Boating & Fishing Foundation (RBFF) and partners, aims to grow recreational fishing to 60 million anglers by December 2021. This bold program is working to make recreational fishing more attractive and accessible to more Americans.
Join ASA and our partners to meet our collective goal by 2021.
Learn more about how 60 in 60 impacts the sportfishing industry >
Ready to join the challenge? Here's what you can do.

Get On Board
RBFF and NMMA have teamed up to encourage everyone to heed the call of the water and Get On Board, a national initiative to inspire people from all walks of life to gear up, get out and leave worry in their wake.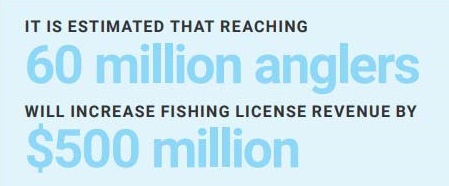 Fishing License and Boat Registration Website Plugin
Connect customers with a single click to their state agency web page to purchase a fishing license or boat registration. Install RBFF's plugin to increase fishing license sales in your state.
Watch the Video to See How Well It Works for Diawa >


Engage with More Customers
Attend ASA's Business Development Seminars held each year during ICAST. These complimentary business seminars will help you improve your business practices and your customers' experiences.


ASA Media Guide
The driving principal behind ASA's Media Guide is simple. We've created a straightforward resource that makes it easy for media to tell a great story about recreational fishing to their readers. The guide includes story ideas, facts and figures, additional resources and much more.

Become a Partner in R3
You're probably inundated with requests for support from organizations putting on fishing events and education programs. Product donations, give-aways, discounts…all are important to putting on a successful event. But which programs do you support?
Download our R3 Partner Evaluation Form and use it as your guide.